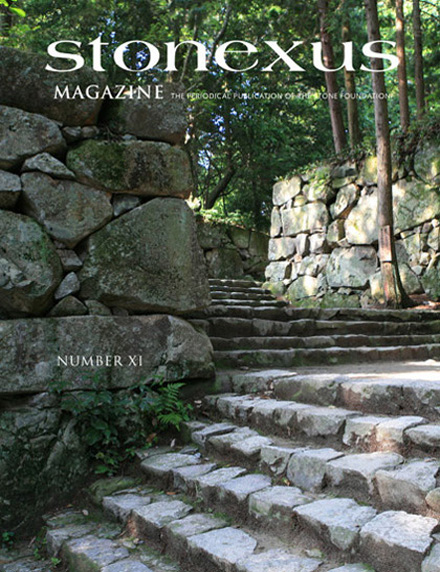 above: the front cover of issue XI of STONEXUS showing the ruins of Azuchi castle. Mr. Awata (shown below) directed the restoration work on the castle which his ancestors helped build in the late 16th century.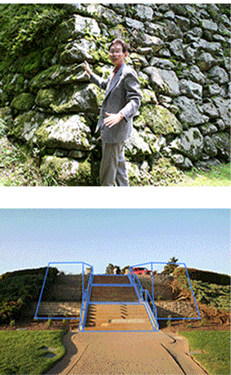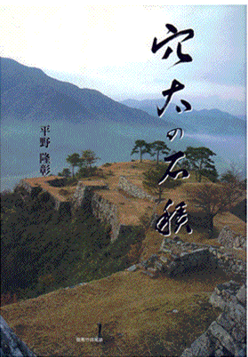 above: the cover of Jyunji Awata's book on the Anoh method of dry stone construction.
below: an excerpt from the book showing the type of structure that will be built during the workshop. Deicted here is Akedo-Jo, one of dozens of castles on which the Awata firm has worked.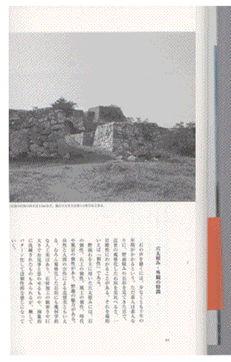 THE WORKSHOP INSTRUCTORS are Jyunji Awata and Suminori Awata, father and son, 14th and 15th generation stonemasons who specialize in the restoration of medieval Japanese castle walls throughout Japan, (re)building them to resist seismic shock.
They are practitioners of the Anoh method of stonework and live at the foot of Mt Hei where this originated in the 16th Century.
The father broke with tradition by going to a university and studying engineering, but after working for some time in that capacity, he returned to the family trade.
His son by contrast, never wavered from it. He began working with his grandfather as a boy and now runs the company.
Awata senior, now retired, has devoted himself to disseminating information about the Anoh stonework tradition. He has written a highly regarded book on its history, principles and practices and is involved in training programs all over Japan as well as a very technical treatise for structural engineers analyzing the effects of seismic forces on archetonic structures.
They will be joined by a stonemason in their employ who is bilingual and a Japanese-Canadian stonemason who will also serve as a translator.
THE WORKSHOP PROJECT is a pair of stone ramparts flanking a stairway in a public park overlooking the city and the coast. Similar in form and style to Japanese castle walls, these will be constructed as those were, with large stones assembled according to principles that have evolved over centuries.