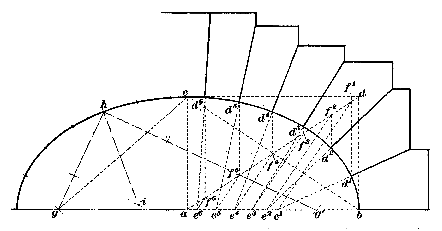 STONEWORK SYMPOSIUM 2001 took place August 10th to August 16th in Charlottesville, Virginia. More than 50 stonemasons, architects, landscape architects, engineers, contractors, artists, even a doctor, a lawyer and few airline pilots attended. Interesting presentations, relevant dialogue and the fellowship based on a shared interest in stone, stonework and stone art made for a memorable event. It was especially remarkable for two things: one was the unique experience, which occurred twice in the course of the Symposium, of architects, engineers, contractors and stone masons sitting in a circle (well, actually an oval) and discussing stonework in architecture -past, present and future; the other was the first dry stone walling competition in this country.
STONEWORK SYMPOSIUM 2001 REPORT
Charlottesville, Virginia was the setting for STONEWORK SYMPOSIUM 2001, which brought together a variety of individuals to engage in dialogue among those involved with one of the most ancient of all building materials, stone. Attendees were stonemasons, architects, artists, general contractors, academics and included diverse interested members of the general public.
The symposium was a function of the newly formed STONE FOUNDATION, which was launched at a similar event last November in Santa Fe, New Mexico. The goal of the organization, which has 150+ members in 25 states and 7 countries, is to connect and inform all those with an interest in stone, stonework and stone art.
This year's symposium took place over a two-week period from Aug.6-Aug.17 and offered a hands-on volunteer stonework project, slide shows, lectures, group discussions (called "Stone Circles"), tours of local sites of interest and pleasant camaraderie. Culminating the event was the first-ever International Dry Stone Walling Competition, based on similar events held in Great Britain.
The first week saw a hearty crew of volunteers assisting a group of the society's members-all professional masons- to construct the stone casing of a timber framed home outside Charlottesville being built by local mason and author Charles McRaven, "Building With Stone" and "Stonework" (Storey Publishing). The project was aimed at raising funds for the Stone Foundation – a portion of the proceeds from the eventual sale of the home representing the value of the work accomplished during the Symposium is to be donated to the organization.
STONEWORK IN ARCHITECTURE was the theme of the core program of the Symposium which consisted of presentations from a variety of professionals involved in different aspects of stone construction. These presentations reflected a healthy diversity of usage and sparked some stimulating discussions in the subsequent "Stone Circles" as both designers and builders, who are often times segregated in the course of modern construction, had an opportunity to share thoughts within the context of a singular discourse.
Patrick Healy, a Colorado architect and Stone Foundation member, organized the initial series of lectures on architectural stonework, having invited a variety of architects from across the country to share their work and participate in a dialogue with those gathered. Architects Bernie Cywinski of the Philadelphia offices of Bohlin, Cywinski, Jackson (designers of Bill Gates mansion, Washington), the Dirsmith Group, Chicago (the Hugh Hefner Estate, California), Robert Murase, Portland, OR (Nike Headquarters, Washington), Madison Spencer and Fred Oesch of Charlottesville, and Healy all presented work that featured stone in a variety of uses: structural; aesthetic, and energy-efficient. Especially striking in the presentations by the architects was the use of stone as a spiritual catalyst -to connect the users of the structure to the natural world.
Drystone masonry was the other main focus of the symposium. This ancient craft involves the art of laying stone without mortar or any other bonding agents. In the past few decades, there has been a rekindling of interest in this form of construction overseas and, in recent years, here in the U.S. The Dry Stone Walling Association of Great Britain (DSWA) and the Dry Stone Conservancy (DSC) two organizations which provide training and serve as information clearinghouses on the craft in Britain and the U.S. respectively, each sent representatives. Stonemasons Dan Snow, Vermont, Richard Tufnell, Scotland, and Tomas Lipps, New Mexico, each elaborated on dry stone structures from around the world both new and ancient, including buildings, bridges, retaining walls and freestanding walls, many of which were still in use.
"Stone circles" were held following architecture and dry stone presentations, with participation open to all. One of the objectives of the Stone Foundation, especially through its symposia, is to serve as a broad-based clearinghouse for stone masonry building standards. Examples of stonework from the most antiquated to the latest cutting edge were presented in the course of the symposium and inspired a discussion on the present state of the craft. Many participants agreed that contemporary stone construction differs much from that in the past; the use of stone in architecture today is largely for aesthetic rather than structural purposes and therefore might best be considered an entirely separate form of building technology from traditional load-bearing masonry. Regarding the latter form of building, code issues and cost concerns were discussed , as was the availability of a properly-trained work force to both design and execute such work.
The subject of mortar was touched upon briefly as well. Recent decades have seen a renewal of interest in lime mortars in some masonry circles. Lime mortars, long used traditionally, have different properties than portland cements, which are used almost universally in contemporary masonry. Patrick McAfee, an Irish mason and author of the books "Irish Stone Walls" and "Irish Stone Buildings"(O'Brien) noted from his own experience that lime mortar usage was basically an "unbroken continuum" in masonry in his native country from Roman times until around the 1950's when he began his apprenticeship. From this time on, Portland-based cements came into use almost universally in masonry construction–as they have been in the U.S. for much of the past century–and according to McAfee, have not proven to be wholly compatible with lime-built structures. McAfee gave a presentation on lime mortars and outlined the general principles behind them– they are permeable, softer than the masonry they surround, flexible and intended to keep masonry apart rather than glued together. Noting the lengthy time line of lime mortar usage, portland cements, he suggested, represent at this point in time a "bump" on the continuum of mortars.
It was resolved that these dialogues would continue at future symposiums.
Culminating the entire two-week symposium was the first-ever International Dry Stone Walling Competition, held at the McRaven/Oesch building site outside of Charlottesville. Unlike similar events in Britain sponsored by the DSWA, two-person teams competed by building adjoining ten foot sections of a freestanding wall which were judged on structural and aesthetic quality. The contest was open to anybody; in the interest of parity, paired with amateurs. Seventy feet of capped sandstone rubble wall was completed in the course of a single day. The competition was judged by Philip Clark of the DSWA, Charles McRaven and Tomas Lipps, Stone Foundation Founder/Director. First prize (and $500) was won by Kevin Fife, a professional waller from New Hampshire and his amateur partner, Tom Novotny, a general contractor from Ivy, VA. There was a tie for second prize between the team of Ed Grady, drystone waller from Kentucky and amateur Jason Carter, and the team of Dan Snow, a drystone waller from Vermont and Eve O'Rourke, a California landscaper. Third place went to the team of Matt Driscoll, a mason from California building his first drystone wall and Amanda McRaven, a daughter of Charles McRaven and, though not a professional mason, no stranger to stonework.
A full report on this year's symposium will be published in the next issue of STONEXUS, the in-house journal of the Stone Foundation and made available to the public at it's website. The society intends to conduct such symposia annually, each one in a different part of the country. The next symposium will probobly take place next winter in California; it will be associated with a stonework project, quite possibly at some as yet undesignated winery.
by Mr. John Burnell, Secretary of the Stone Foundation
Copyright ©2001 Fine Homebuilding Magazine
www.taunton.com/finehomebuilding