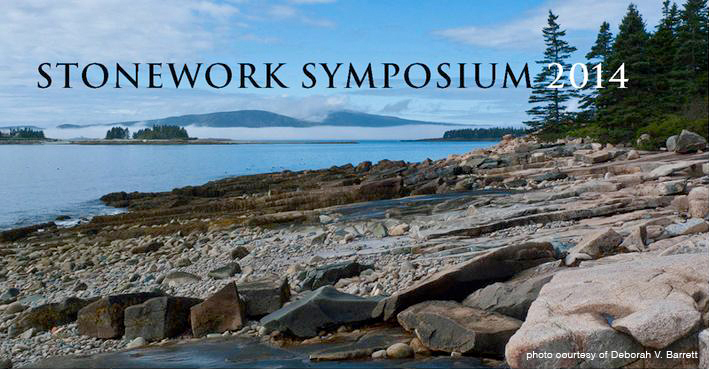 August 19 - 24, 2014
Schoodic Peninsula - Acadia National Park
Presented by
The Stone Foundation
in association with
Acadia National Park, The Maine Stone Workers Guild,
The Schoodic Education and Research Center
and the Schoodic International Sculpture Symposium
This, the 13th annual gathering of the stone 'tribe' will provide, as always, interesting and informative presentations and demonstrations, communal activities, congenial discourse, camaraderie.
There will also be workshops, field trips, games, great picnic lunches on the coast, fireside suppers.
There will be much to experience, to see, to do, to learn, to enjoy.
The Symposium venue, the Schoodic Education and Research Center, is a conference center like a small college with a wooded campus bordered by a stony seacoast. Lodging, both residential and dormitory is ample and affordable so for the first time the Symposium will be contained and cohesive, like a little village.
These Symposiums are occasions when the Stone Foundation actually becomes a membership organization, a community united by devotion to the art and craft of stonework.
WE ARE A TRIBE AND THIS IS OUR POW-WOW.
Those who have attended previous Symposiums report that they return home inspired and energized. Those who have not yet attended a Symposium are encouraged to do so.
'FIRST-TIMERS' WILL RECEIVE A 25% DISCOUNT.
Presenters (all have confirmed): KEVIN BAKER, stonemason; PATRICK CHASSE, ASLA Landscape Architect, Garden Designer; DAVID DERNIE (England), architect, author, educator; HANK GILPIN, world-class wood-joiner and landscape designer; PAT MCAFEE, stonemason, author, bon vivant; TORU OBA, stonemason, sculptor; JESSE SALISBURY, sculptor; ROBERT A. THAYER, author; ROBERT THORSON, author, professor of geology, stone-wall activist; BOBBY WATT, stonemason, contractor, troubadour; SADAFUMI UCHIYAMA, Curator of the Japanese Garden in Portland, Oregon and OTHERS.
AND the popular "TEN MINUTE SHOW AND TELL"—brief presentations by SYMPOSIUM ATTENDEES of their own or other stonework. This year we will adapt the PechaKucha style (20 images per presentation). This aspect of the program has evolved from an alternative to portfolios displayed on a table and is now a way for members to show images of their work (or of work that they admire) and receive feedback from their peers.
Details about the TEN MINUTE SHOW AND TELL, about the SCHEDULE, thePRESENTERS, TRAVEL, LODGING, etc. are available through the links on the right.
AND
A One Day STONE LETTER CARVING WORKSHOP
taught by Maine latter artist DOUG COFFIN
Doug is an expert carver/instructor. Stone will be provided and tools available for sale.
For info about DOUG and the workshop, click here. Doug Coffin
Email [email protected] to be apprised of information updates.
After August 12th, Tomas can reached on his cell phone: 505-603-6440
---
PRESENTERS (Click on names for information)
SEAN ADCOCK (Wales), dry stone waller
KEVIN BAKER (RI), stonemason
PATRICK CHASSE (ME), ASLA Landscape Architect, Garden Designer
DAVID DERNIE (England), architect, author, educator
HANK GILPIN (RI), world-class wood-joiner and landscape designer
TOMAS LIPPS (NM), stonemason, artist, designer
PAT MCAFEE (Ireland), stonemason, author, bon vivant
TORU OBA (VA), stonemason, sculptor
JESSE SALISBURY (ME), sculptor, stonesplitter
ROBERT A. THAYER, author
ROBERT THORSON (CT), author, professor of geology, stone-wall activist
BOBBY WATT (Scotland, Canada), stonemason, contractor, troubadour
SADAFUMI UCHIYAMA (Japan, OR), Curator of the Portland, OR Japanese Garden
---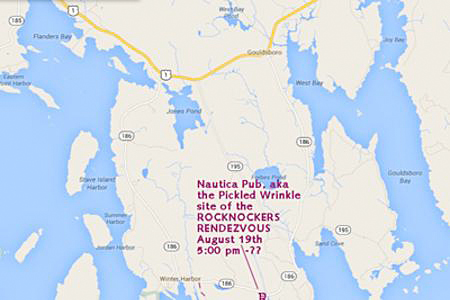 SCHEDULE:
August 12 - 18
DRY STONE WALLING WORKSHOP
& LIME MORTAR STONEMASONRY WORKSHOP
August 19
STONE LETTER CARVING WORKSHOP (one day)
August 19, Tuesday
6:00 - 10:00, ROCKNOCKERS RENDEZVOUS
At Chase's Restaurant in Winter Harbor
(before or after check-in at the lodging facilities at SERC,
the Schoodic Research and Education Center.)
August 20, Wednesday
08:00 - 10:00: Breakfast, Registration
11:00 - 12:00: Initiatory Session
12:00 - 13:00: Lunch
13:00 - 17:30: Presentations
17:30 - 19:00: Dinner
19:00 - 21:00: Presentations
August 21, Thursday
Field Trip to Acadia National Park
06:30 - 7:30 Early Breakfast
08:00: Ferry from Winter Harbor to Bar Harbor on Mt. Desert Island
07:30 - 09:00 Late Breakfast
There is another ferry at 11:00 and the Park is about an hour away by car.)
(Bicycles can be rented at Bar Harbor and there is free bus service to the park.)
13:00 Lunch in Acadia National Park
Ferries return from Bar Harbor to Winter Harbor at 3:30 and 6:00
(Dinner not provided)
August 22, Friday
07:30 - 09:00: Breakfast
09:00 - 12:00: Presentations, Demonstrations
12:00 - 13:00: Lunch
13:00 - 17:30: Presentations, Demonstrations
17:30 - 19:00: Dinner
19:00 - 21:00: Presentations, General Membership Meeting
August 23, Saturday
07:30 - 09:00: Breakfast
09:00 - 12:00: Presentations, Demonstrations
12:00 - 13:00: Lunch
13:00 - 17:30: Visit to Schoodic Sculpture Symposium
17:30 - 19:00: Dinner
19:00 - 21:00: Presentations
August 24, Sunday
07:30 - 9:00: Breakfast
10:00 - 18:00 LithOlympics & Picnic
18:30: Dinner
August 25, Monday
7:30: Breakfast
No Schedule