Sante Fe, New Mexico, April 3–7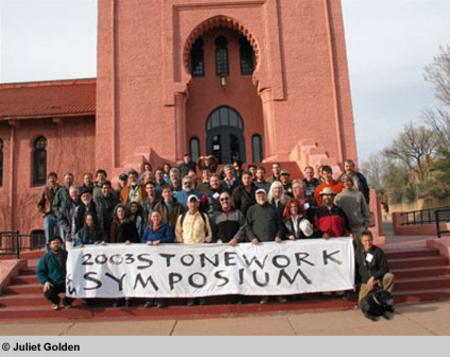 This the third in a series of annual gatherings of the stone "tribe" took place in Santa Fe, New Mexico, where it and The Stone Foundation were launched in November 2000. The hosts were the Montezuma Lodge of the Ancient and Accepted Freemasons. More than a hundred participants attended what has been described as the best symposium yet.
STONEWORK SYMPOSIUM 2003 was a landmark event in the evolution of the Stone Foundation as it was the occasion of the first Board of Directors meeting during the course of which a major step was taken toward the formal establishment of the Stone Foundation as a non-profit organization with headquarters in Santa Fe.
A cornerstone for the Stone Foundation, a cube of polished marble three foot square was provided by members from Colorado, Rock and Co. principals, Bruce Davis, Ed and Michelle Bydalek; architect, Vince Lee and Doug Bachli of Colorado Flagstone Inc. Participants brought stones from their locales and Stone Foundation members who did not attend sent stones which were to be used to construct a base for. Unfortunately a city building permit could not be obtained in time to do this during the course of the Symposium, but these materials have been stored until the appropriate place and time are determined.
SPEAKERS INCLUDED:
KEITH BLADES
masonry conservation specialist, architectural and engineering technical consultant and educator.
CRAIG CAMPBELL, ASLA
landscape architect and author of "WATER IN LANDSCAPE ARCHITECTURE".
ROBERT CROSSNO
structural engineer and the president of the Structural Engineers Association of New Mexico.
MALCOLM HOLZMAN, FAIA
noted architect and author of "STONE WORK".
GEN KUMIGAI
Japanese architect and scholar.
VINCE LEE
architect and authority on Peruvian stonework, who figured in two episodes of the NOVA series "Secrets of Lost Empires".
TOMAS LIPPS
artist, stonemason and Stone Foundation founder.

JESÚS MOROLES
accomplished Southwestern stone sculptor.
MARK MENDEL
stonemason, artist, writer.
DEVENDRA, RAMJI
architect and stonemason.
RICHARD SAMMONS
architect, one of a number of "new traditionalist" architects, whose structures utilize traditional materials and techniques including load-bearing stonewalls.
TIM SMITH
former Cathedral of St. John the Divine stonemason, apprenticeship program director.
DAN SNOW
dry stone waller and author of "IN THE COMPANY OF STONE".
BOBBY WATT
Scots master stonemason, contractor, consultant, historian and educator.
TADEUSZ WODARCZAK
Polish stonemason.
THE SUBJECTS OF THEIR PRESENTATIONS INCLUDED:
The History of Stonemasonry
Restoration Masonry
Apprenticeship Training Programs
Dry Stone Walling
Stonework of Peru
Stonework in Art
Stonework in Poland
Stonework of the American Southwest
Stonework in Landscape Architecture
Stonework in Japan
Stonework in Traditional and Contemporary Architecture Presentations and Dialogue
The Symposium culminated with a guided excursion to the Chaco Canyon Indian ruins and a hearty meal there.