INTERNATIONAL STONEWORK SYMPOSIUM
24-29 September Son Marroig- Deíá, Spain
During and following the presentations on Monday, Wednesday and Friday there was an on-going demonstration of Mallorcan style dry stone walling near the Symposium venue at Son Marroig. Participation was invited.
---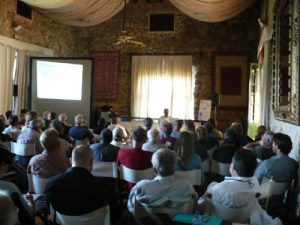 Monday – Lúnes 24 sep
10:00 Welcome
– Miquel Ramis ArtifexBalear
– Jaime Crespí, Alcalde de Deiá
– Francesc Buils Conseller of Turism of the Balearic Government
– Tomas Lipps President Stone Foundation
Presentations:
10:25 THE GEOMETRY OF THE STONEMASON
Miguel Ramis, Mallorca, Spain, Stonemason, Stone carver and Director of Artifex Balear
12:00 STONE AND STONEWORK IN AUSTRALIA
Raelene Marshall, Australia, Photo-journalist, Director of CULTURE IN ACTION, Secretary of the Dry Stone Wall Association of Australia, and curator of "A STONE UPON A STONE" touring exhibition.
14:30 FINE POINTS OF STONECRAFT
George Gonzalez, Bolinas, California. Stonemason, contractor and Stone Foundation founder/member.
15:30 SITE-GENERATED ART, THE USE OF STONE IN THE CREATION OF COMMUNITY SPACES
Andy Dufford, Denver, Colorado. Public art design and installation practitioner.
16:45-17:30 Films: – THE ART OF SPLITTING GRANIT
19-21:00 Palma tour
---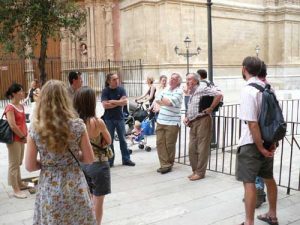 Tuesday – Martes 25 sep
-TOURING DAY
10-12 TOUR Palma
16-18 h Tour Palma
(Img: Miquel, member of ARCA, explaining the secrets of the Cathedral of Palma.)
---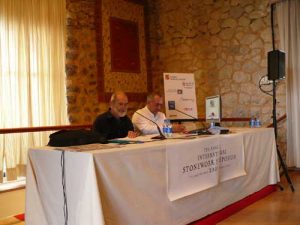 Wednesday – Miércoles 26 sep
Presentations:
9:00 THE CONTINUING EVOLUTION OF THE MEDIEVAL STONEMASON'S GUILD, LES COMPAGNONS DU DEVOIR, and CONTEMPORARY TRAINING PRACTICES IN FRANCE. Richard Simonet, France. Member of Les Compagnons de Devoir (the contemporary generation of the medieval guilds) and director of the Institute Superieur de Recherche et de Formation aux Metiers de La Pierre (Institute of Stone) in Rodez, France.
10:15-10:25 break
10:25 A JAPANESE STONEWORK PHOTO ALBUM
Tomas Lipps, stonemason and founder/director of the Stone Foundation will present photos of Japanese stonework and stone sculpture taken by himself and other Stone Foundation members Brad Goldberg, Richard Hansen, Carl Johannsen Scott Murase and Jessé Salisbury
( Img: Tomas Lipps (left) introducing Richard Simonet, Director of Institute de la Pierre)
---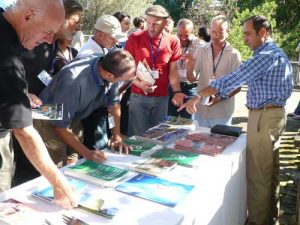 12:25 LIME FOR THE BUILDING OWNER, PRACTITIONER (STONEMASONS, BRICKLAYERS AND PLASTERERS) AND SPECIFER (ARCHITECTS AND ENGINEERS)
Patrick McAfee, Dublin, Ireland. Stonemason, Author of "Stone Buildings" and "Irish Stone Walls." Pat's presentation will launch his new book on lime which will be published by Ireland's Building Limes Forum.
14:30 STONE IN THE VERNACULAR AND CONTEMPORARY ARCHITECTURE OF THE BASQUE COUNTRY
Javier Cenicacelaya, Bilbao, Spain. Architect, Professor at University of Bilbao.
15:30 CREATIVITY WITH DRY STONE CONSTRUCTION
John Shaw-Rimmington, founder/director of the Dry Stone Walling Association of Canada
16:30 A JAPANESE PHOTO ALBUM. Tomas Lipps and Scott Murase.
( Img: Patrick Mcafee from Ireland at the left side. Josep Antoni Aguiló, presenting the books of the Consell de Mallorca)
---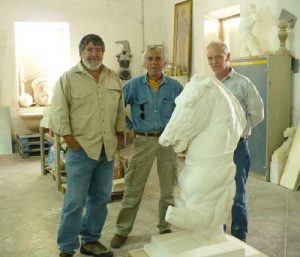 Thursday – Jueves 27 sep
-TOUR The Island
-20-22 HOURS NIGHT TOUR Palma by ARCA.
( Img: George González from California, Michelle Genessi from France and Nick Aikten from Scotland, visiting the School of ArtifexBalear at Inca)
---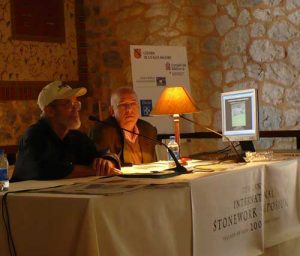 Friday- Viernes 28 sep
09:00 THE STONEWORK AND STONEWORKERS OF INDIA
Devendra Ramji, Albuquerque, New Mexico. Architect, Stonemason
10:00-10:10 break
10:10 "ARQUITECTURA POPULAR ESPAÑOLA," THE VERNACULAR ARCHITECTURE OF SPAIN (1973)
This presentation will consist of scans of photos and excerpts from the text of the five volume edition by Carlos Flores (a magnificent now-out-of-print work,) There will be on-going discusión of the material being shown.
Tomas Lipps & Miguel Ramis
( Img: Tomás introducing Javier Cenicacelaya, from the Vasque Country University)
---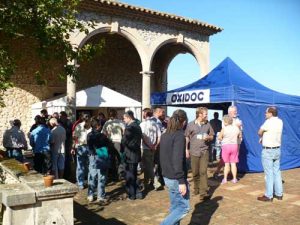 11:20-CLASSICAL STONECUTTING AND ITS ROLE IN ARCHITECTURE
Dr. José Calvo López, Profesor Titular de Universidad
Universidad Politécnica de Cartagena, Departamento de Arquitectura y Tecnología de la Edificación.
12:30-12:55 STONEWORK OF THE CONSELL DE MALLORCA
Phillipe Alvaro. Presentation of the activities of the Conselleria de Medio ambiente of the Consell de Mallorca, responsible for the dry stone patrimony.
13:00 Closure
Catalina Julvé. Conselleria of Medio Ambiente. Consell de Mallorca.
Tomas Lipps, StoneFoundation
Miguel Ramis, ArtifexBalear
Jaime Crespí, Major of Deiá
Jaime Vila, Major of Valldemossa
Antonio Segura, Director de Programas de la Conselleria de Medio Ambiente
Miquel Deia, president of Oxidoc
………………………………………………………….
Visit at the stone walls that had been restored this week by a team of the margers del Consell de Mallorca.( Img: Coffee break at Son Marroig)
---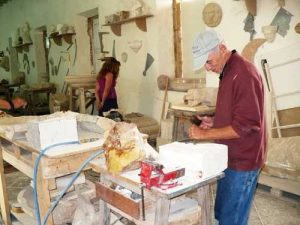 Steve Cohan, from Emerald Isles (Washington State) stonemason and rare books expert, testing our excelent freestone , the "piedra de Santanyí," an oolithical limestone.
---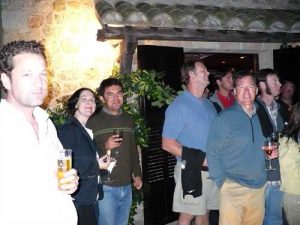 20:30 Majorcan Snack
The Consellería of Turism invites the Symposium Atendees to a Majorcan snack at Costa Nord. Valldemossa.
( Img: April, Miguel Angel and others listening to one of the speeches)
---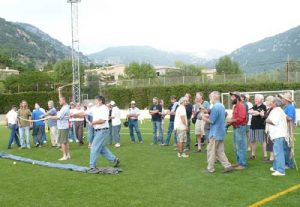 Saturday – Sábado 29 sep
17:00-18:00 Hours. Demostration of Stone Slinging
Official competition of the Balearic Asociation of Stone Slingers
Complimentary drinks and a Mallorcan snack by the Town Council of Deiá.
( Img: learning the ancestral technique of the balearic slingers)