photo: View of Ventura from Grant Park where the Japanese Dry Stone Walling Workshop will take place.The tall building in the center is the Crowne Plaza Ventura Beach Hotel. The Crowne Plaza will be the Host Hotel for the Symposium. They have set aside a block of discounted rooms for symposium attendees. The Crowne Plaza is on the beach, but within walking distance of Main Street and downtown restaurants, cafes, bars and shops. The terrace outside Aqua (the bar/bistro in the lobby) will be a great place to watch the sunset while sipping a pint of "Rocknockers Ale.


VENTURA, CALIFORNIA
The STONE FOUNDATION and STONEXUS PRODUCTIONS present
January 19-22
JAPANESE DRY STONEWALLING WORKSHOP, JANUARY 8-18
for workshop description, click here
for local newspaper coverage of event, click here.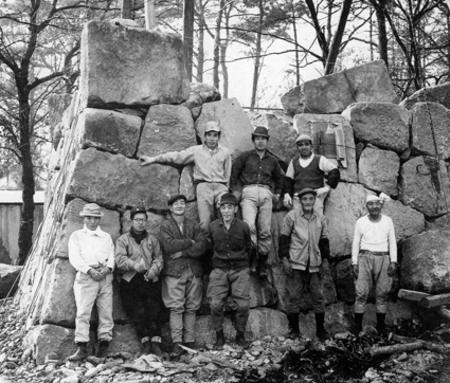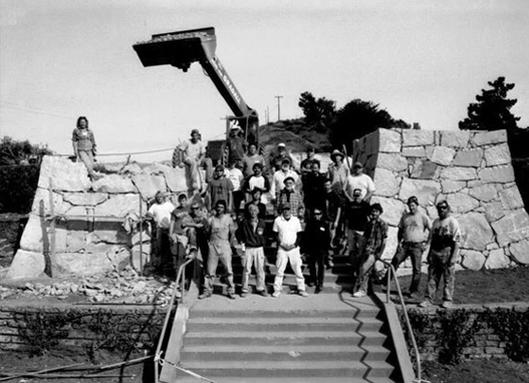 ---
INTERNATIONAL STONEWORK SYMPOSIUM 2010, January 19-22
The annual gatherings of the stone tribe organized by the Stone Foundation have moved around the calendar and around the world. This year for the first time it will take place in the winter, in southern California. (And, also for the first time, the Symposium and Workshop activities will be recorded in a video that will be made available to participants.)
WORKSHOPS
There will be a Japanese Dry Stone Walling Workshop…..January 08-18 (Registration January 7th)
and an Architectural Stone Carving Workshop……………..January 12-18 (Registration January 11th)
Those who have signed up for the JAPANESE DRY STONE WALLING WORKSHOP (or are considering doing so) will be interested to know that Tetsurou Tanabe, the Japanese stone waller and gold medal banker mason (First prize in the International Skills Competition in 1981) who was featured in the recent issue of Stonexus Magazine will be there as well. He cannot resist the opportunity to work with Jyunji and Suminori Awata and participate in creating this specimen of traditional Japanese stonework on the other side of the Pacific from their homeland. Mr. Tanabe will be accompanied by his good friend, Katsumi Ida, sculptor and professor of sculpture at Tokyo Zokei University who was also featured in the recent Stonexus. Mr. Ida will be giving a brief presentation at some point.
Workshop participants will be able to camp at the Workshop project site in Grant Park located on a hill overlooking the city, the coast, the coastal mountain range and the Channel Islands offshore. The Conservancy that owns and administers this area of the park is working at providing lunches and arranging lodging in local homes and commercial establishments.
There are still places available in both workshops.
REGISTRATION and the ROCKNOCKERS RENDEZVOUS
As always, the evening before the Symposium commences there will be a convivial get-together concurrent with Symposium Registration. On the evening of the 18th this will take place at the Anacapa Brew Pub on Main Street in Ventura. Anacapa will be brewing a special beer for us, Rocknockers Ale, and chile will be served.
Registration will continue on Tuesday morning at the Crowne Plaza Hotel's beachfront bar area, Aqua.
The prevailing economic climate influenced the decision to reduce the registration to $360, but that may still be unaffordable to some at this time. Therefore current Stone Foundation members in good standing are offered the choice of paying the $360 Symposium registration fee either on January 18th, or on July 18th of 2010.
THE MAP click here for an annotated map of Ventura.
Click here for a map oriented for printing.
SYMPOSIUM SCHEDULE
The Symposium format will be different than before. Rather than the usual long weekend packed with back-to-back presentations all day, this Symposium will unfold over four days, Tuesday through Friday. There will be a communal meal on Friday.
Saturday, for those who do not choose to travel home then, can be seen as an extra day, a free-form coda to the Symposium. Plans for Saturday will doubtlessly emerge in the course of the week.
Note: We've recently learned that Santa Barbara, just up the coast from Ventura has a rich history of stone architecture.
The knowledgeble Santa Barbara stonemason (and Stone Foundation member) William Wood who made us aware of this will be giving a presentation on the stonework and stoneworkers of his hometown at some point during the Symposium.
On Saturday the 23rd of particularly interesting sites and Symposium participants who have not yet made travel arrangements would be wise to delay their departure until Sunday.
In the afternoon and early evenings we will gather in a hall for interesting and informative presentations by accomplished speakers as well as brief portfolio/project presentations by individual Stone Foundation members and videos.
Individually or in groups, Symposium attendees can spend the mornings as they wish, participating in or watching the Lithic Olympic events, participating in or watching a communal public art project or projects, viewing demonstrations, engaging in discourse with other attendees, touring around, or hanging about, hiking, biking, rock climbing, playing golf, surfing, reading, whale-watching, whatever.
Symposium attendees may wish to schedule a few extra days to further experience the area.
PRESENTERS
SEAN ADCOCK, Wales, dry stone waller and head of the North Wales Branch of the Dry Stone Walling Association of Great Britain, Inscriptions upon the Landscape -The Dry Stone Heritage of the British Isles.
SUMINORI AWATA, Japan, 15th generation stonemason: The Anoh Method (a dry stone walling technique that has been practiced in Japan since the Medieval era).
TOM FAVELL, California, stonemason: Building Stone Walls and Fireplaces in Seismic Zones.
MICHEL GUYOT, France: A Castle in the Making. Michel is the initiator of the Guedelon project in France begun in 1998, a medieval castle currently being built as it would have been in the 13th century, using the same materials and techniques that were prevalent then. (www.guedelon.fr/en) Michel and his team have recently embarked on a similar project in the US, the Ozark medieval fortress. Both projects will be described and discussed.
JASON JOPLIN, California, stonemason, sculptor: Working with a Master. Jason in three presentations will recount three major stone installation projects on which he worked with legendary landscape architect LAWRENCE HALPRIN (http://en.wikipedia.org/wiki/Lawrence_Halprin).
PAUL LINDHARD California, stonemad sculptor: A Quest for Stone and for Form in Stone
JOHN MILLS, Montana, geologist, quarrier, stone supplier: The Geology of Building Stone
JOHN SHAW-RIMMINGTON, Ontario, founder of the Dry Stone Wall Association of Canada: Creativity in Dry Stone Construction.
BOBBY WATT, Scotland and Ontario, restoration stonemasonry contractor: Restoration Stonemasonry in Principle and in Practice.
COLLEEN WILSON, Canada, architectural stone carver: Marvelous Manifestations of the Stone Carver's Art
WILLIAM WOOD, Santa Barbara California, stonemason: The Historic Stonework and Stoneworkers of Santa Barbara

10 MINUTE "SHOW AND TELL"
This is an experiment—we are inviting Stone Foundation members, whether stonemasons, wallers, landscapers, design professionals or artists, to give a very brief presentation, either a portfolio of their best work, or the process of realizing an interesting project. As you probably know from watching video clips and slide shows on the Internet, 10 minutes is a lot of time. In this way, we could have the occasional half hour in which 2 or three members in succession give presentations and answer questions. Feedback and discussions will doubtlessly continue later.
There have already been some interesting proposals. If you plan to attend the Symposium and wish to do this, please [email protected].
ALSO SCHEDULED: Videos, at least two of them, will be shown during the Symposium. Those chosen are: Secret Towers of the Himalaya by Frederique Daragon (her book about the marvellous 'star towers' of Sechuan, China was reviewed in STONEXUS VII) and The DSWA Millenium Wall, a documentary of the building in England of a long freestanding wall with sections that incorporate the styles of walling done in various regions of the United Kingdom, built by wallers from those regions using indigenous stone.
ALSO SCHEDULED: SUNSET SESSIONS on the terrace of Aqua, the lobby-level bar/bistro at the Crowne Plaza. Between the afternoon and evening presentations we will adjourn to the beach to watch the sunset while sipping some Rocknocker's Ale.
SECOND LITHIC OLYMPIC GAMES
Contests of skill, strength and judgment involving stone-related activities will take place most mornings. These will include:
A Dry Stone Walling Competition This was the only event with a cash prize at Stonework Symposium 2008 in Barre, Vermont. This year the competitors will be building sections of a circular planter wall, the first landscaping feature in what will be Ventura's Botanical Garden. It is probable therefore that prize money will be donated from the community. We hope that a bunch of our dry stone wallers will participate in this.
Eyeballing Contests (judging angles, weight, distance, plumb)
Levering (large stone moved by a two person team with pry bars.)
A Stone Balancing Contest
The Wheelbarrow Steeplechase
Lithobolos (Bowling with stone balls, a Neolithic pastime (much like bocce) that was popular at the Symposium in Barre. Those interested will have the opportunity to play during the week and there will be a Lithobolos tournament on Saturday morning.
'Levering' (two men using bars to move a large stone a certain distance
Hammer
If you are interested in participating in the Lithic Olympic events, please indicate that on your registration forms.
CAIRN-ARC
Emma Wood State Beach is a long, curving, stony beach just west of Ventura that sometimes has good surf (and fishing—perch, bass, cabezon and corbina.) Its more than two mile length is covered with sea smoothed stones. It is an excellent place for two types of recreational activities: stone balancing and cairn building. Late one morning we will assemble there, and pairs of participants will build a long, curving line of equidistant cairns, each five or more feet tall. This will be a great photo-op and should only take about an hour, after which we will have lunch.
LOCAL ATTRACTIONS
Ventura Beach is a popular surfing beach (bring a wetsuit) and a pleasant place from which to watch the sunset, as is the terrace bar of the Crowne Plaza Hotel which is right on the beach.
Art City Studios, Gallery and raw stone resource. This is where the stone carving workshop will take place. More than a dozen sculptors have studios here and the owners, sculptors Paul Lindhard and Russel Erickson procure and sell stone to sculptors. Their two acre domain is thickly populated with multifarious lithic specimens.
Santa Barbara, just 30 miles north of Ventura, has a lot of interesting stonework. A map will be provided to aid in locating it. And there are botanical gardens such as Lotusland and interesting private gardens and landscaping (a map will be provided, a tour can be arranged).
The Santa Ynez mountains behind Santa Barbara have rock formations (mostly sandstone) that would be of interest to sight-seers or rock climbers. There are hot springs in the Santa Ynez and others closer to Ventura, near Ojai, CA. A map will be provided upon request.
The Channel Islands National Park is just offshore. If there is sufficient interest a boat can be chartered that leaves Ventura Harbor for a morning excursion around the islands. Or a half day in the Channel watching for the whales that migrate through here in January and February.
San Simeon (aka Hearst Castle) is 180 miles to the north of Ventura. As it would consume an entire day, a visit here would be best scheduled on Monday before the Symposium, or on Sunday after it.
TRAVEL
Japanese Dry Stone Walling Workshop participants, please try to arrive on Thursday, January 7 and register that evening at the Anacapa Brewing Company on Main Street in Ventura so that you don't miss the beginning of the workshop on Friday morning, January 8.
Architectural Stone Carving Workshop participants, please try to arrive on Monday, January 11 and register that evening at the Anacapa Brewing Company on Main Street in Ventura so that you don't miss the beginning of the workshop on Tuesday morning, January 12.
Stonework Symposium 2010 participants, please try to arrive on Monday, January 18 and register that evening at the Anacapa Brewing Company on Main Street in Ventura so that you don't miss the beginning of the Symposium after lunch on Tuesday, January 19.
Those not near enough to drive have a choice of travel by plane or train. Flights to Los Angeles (LAX) are easily arranged. Those who live in towns served by Southwest Airlines can take advantage of that airline's lower fares to Los Angeles.
LAX to Ventura:
Option A) Rental car. Those wishing to share a rental car from the airport to Ventura should let us know ([email protected], 505-989-4644) and we can pair you up with one or two other attendees arriving at about the same time who might also wish to share a car.
Option B) Train. Amtrak is a good way to travel comfortably to Los Angeles and one can change trains at the terminus, Union Station, and go directly to the Amtrak station in downtown Ventura which is within walking distance from the Crowne Plaza Hotel. From LAX there is a bus (called the Flyaway) to Union Station where one can get the train to Ventura. This bus costs $7.00 and leaves every half hour between 5 am and 1 am, but we've been unable to find how long it takes to arrive at Union Station. Each train from Los Angeles will be met with a pick-up truck to carry bags to the hotel. Click Here to see the weekday Amtrak schedule from Union station to Ventura. (No reservations needed.)
Option C) Shuttle. The Ventura County Airporter leaves from LAX Terminal #1. It cost $35. Click Here for schedule and contact info.
NOTE: Oxnard Airport is quite a bit closer to Ventura than LAX (20 minutes by car) and flying into Oxnard might even be cheaper than flying into LAX—if you fly United Airlines (I think that's the only airline that flies into/out of there). For instance, Boston to Oxnard, RT (two stops, one of them LAX) is only $376 incl. taxes and fees. (Oddly, LAX to Oxnard RT is $400+.) Bypassing LA and LAX would be a relief. We can match up folks arriving there who want to share a rental car ([email protected], 505-989-4644).
Santa Barbara just north of Ventura also has an airport (served by both United and American Airlines). Rental cars are available there as well, of course.
The Roadrunner Shuttle serves both airports and will take passengers to individual destinations, whether hotel, motel, B&B or campground. From Oxnard the first three passengers share the price of $36; for more than three passengers the price rises to $41. The shuttle from Santa Barbara is a different story, it's $71 for one passenger and $10 for each additional passenger. We may run a shuttle ourselves to and from Santa Barbara.Click Here to see shuttle information.
LODGING
Ventura has a number of inexpensive motels, less inexpensive hotels and bed and breakfast inns in Ventura. Click here to see a list of them.
The Crowne Plaza Hotel Ventura Beach is offering rooms to us at a discounted rate of $80 (that's about 20% off.) Those who wish to share the cost of accommodation with another Symposium attendee ($40 is cheaper than most motel rooms) but do not have anyone in mind to share with can email me ([email protected]) and I will pair you up with someone else of the same gender.
Couples, and those who already have someone they wish to share with, or those who wish solo accommodation at the discounted price, can make reservation directly with the hotel at 805-648-2100. Tell the clerk you'll be attending Stonework Symposium 2010. The discounted rate will be available until January 18th, but I wouldn't wait until then to make reservations.
This is a boon. Not only only is this hotel a great place to stay, but it is within walking distance of everything else. A rental car would be a convenience, but not a necessity!
The Crowne Plaza is right on the beach and the palm-lined walking/biking path that borders it. The beach has not only sand, but an abundance of sea-smoothed stones in all shapes and sizes, a veritable playground for idle hands less than 50 yards from the hotel and within view of it.
The hotel is also a short walk from Ventura's historic Main Street and its restaurants, pubs and shops.
CAMPING
As noted elsewhere, folks taking the walling workshop will be able to camp at the worksite on the hill at Grant Park.
In consideration of the financial constraints which may make it difficult to attend the Symposium the Symposium registration fee has been reduced to $360, and opportunities for camping have been explored.
For Symposium attendees we will be renting a camp site for tents at Emma Wood State Park which is 200 yards from the beach (see map below.) It is also about the same distance from the highway, so those wishing a quieter campground should check out Lake Casitas which is about 20 minutes inland (www.lakecasitas.info/). The Emma Wood campsite can accommodate 30 tents and campers will share the rental fee of $100. It is within walking distance of downtown and there will cars going back and forth. There are RV facilities available as well.
We have recently learned that there is another campground near Ojai, CA, about 10 or 15 minutes inland from Ventura. It is called Camp Comfort Park, (805) 654-3951.
THE MAP
This gives a GOOD idea of the lay of the land. (But does not show that Grant Park is on a hill.) Everything is within walking distance of everything else (though it's a lengthy stroll from Emma Wood State Beach Campground to downtown (shorter if you walk along the railroad tracks). But cars will probably be going back and forth. Main street and several streets perpendicular to it are full of restaurants, shops and antique stores. Ed Adams' wife, Jean can't complain this year that there are no places to shop.
If you plan to attend the Symposium—and I hope you will consider doing so, this will be the best one yet— print out the map and bring it with you.
Click here for a map oriented for printing.
[ventura map] MORE INFORMATION
Additional information will be posted here as it becomes available.
QUESTIONS?
Email: [email protected] or phone: 505-989-4644